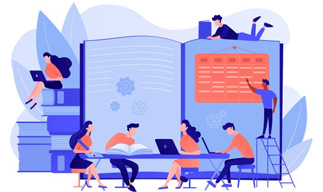 Student Clubs and Conduits
There are several conduits and clubs at BIMTECH, providing out-of-class experiential learning opportunities for the students. PGDM online learners are encouraged to participate in all the activities conducted by the clubs and conduits of offline PGDM at BIMTECH. PGDM online formed various clubs such as Kautilya club, marketing club, and digital café to enhance students' participation in the extra-curriculum activities.
Kautilya Club was formed to develop students' interpersonal skills by engaging them in various activities such as debate competitions, blogging contests, storytelling competitions, etc. Similarly, a marketing club was formed to make students abreast of the current scenario and the happenings around the world in the marketing space. Digital literacy is another skill that is required in the workplace. Viewing this, a Digital café was formed to empower learners with digital skills and innovation to lead their career and business prospects.
PGDM Online Clubs are:
Kautilya Club
Marketing Club
Digital Cafe